4260T Handle Back Chair - Tone Channels
(2" Box or Waterfall Seat)
4160T - 4260T Product Features:
The 4160T - 4260T diner chair features an 'arc' chrome handle on the back.

Aka the 'Handle Back Diner Chair' with popular 'dual tone' channeled back.

This commercial diner chair is built for practical beauty and extra comfort.

The perfect décor for 24 hour café, diner, restaurant, lounge or home.

The 4160T features a 1" pulled seat.

The 4260T features a 2" box seat or a 2" waterfall seat.

Features heavy, welded 14 gauge thick steel frame in chrome finish.

Features high density cushion seat and deep foam padded backest with channels with hand sewn stitching creating quality Roll-'N-Pleat, 50's style.

Refer to vinyl Grade links below to customize vinyl upholstery fabric.

Fully Assembled - no assembly required.

Proudly Made in the USA.
4260T Specifications:

| | |
| --- | --- |
| Dimensions: | 31.5" H x 15.5" W x 19.5" D |
| Seat Height: | 19" |
| Seat Dimension: | 15" x 15" |
| Item Weight: | 19 lbs. |
| Packed Wt (1 pc/cn): | 24 lbs |
| Packed Wt (2 pc/cn): | 44 lbs |
| Carton Dimensions: | 18"x26"x41" |

4260T Pricing per Chair (2" Seat):

| | | | | | |
| --- | --- | --- | --- | --- | --- |
| Quantity | Grade 3 | Grade 4 | Grade 5 | Grade 7 | Grade 10 |
| 50+ | $238.56 | $242.68 | $250.95 | $250.95 | $250.95 |
| 20-49 | $242.68 | $246.80 | $255.07 | $255.07 | $255.07 |
| 10-19 | $246.80 | $250.95 | $259.19 | $259.19 | $259.19 |
| 1-9 | $274.37 | $278.51 | $286.76 | $286.76 | $286.76 |

(Click on Grade above for color selection)

Please note: Item # 4160T
Subtract $18.56 for 1" Pulled Seat

(This file requires Microsoft Excel to open)

To order or if you have any questions, please call us anytime at our
24/7/365 Customer Care Center:

478-320-2502
Or click below to send us an E-mail with your questions:

Or click below to request a call back:
DOWNLOAD THE CLASSIC HEAVY DUTY 14 AWG FULL-LINE RETRO DINER CATALOG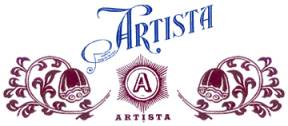 2014 Artista Gallery, Inc. All Rights Reserved