Heavy Duty Grade 7 Vinyl Selections: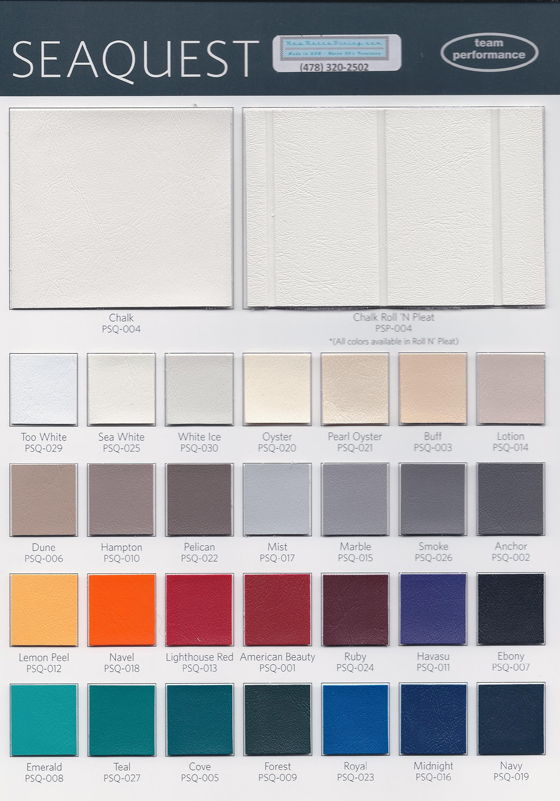 (Click on Images for a Much Larger View)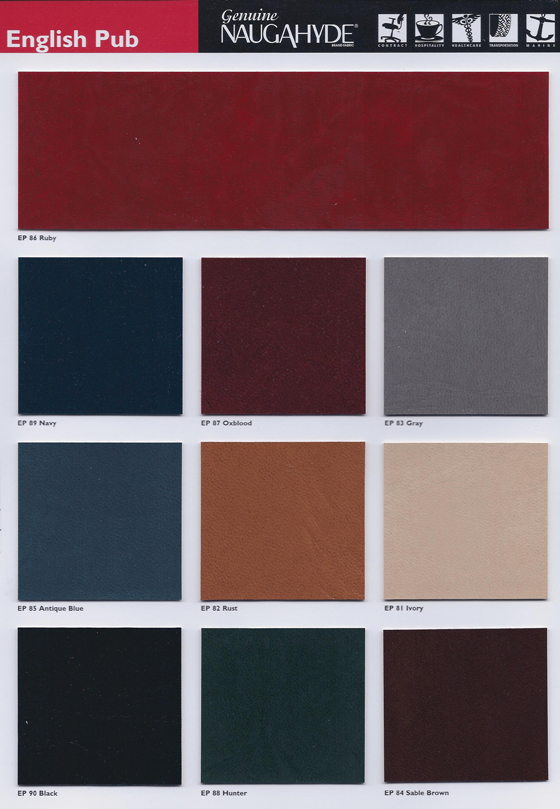 *Please Note: Actual Colors May Vary From Those On The Screen
(Click on Images for a Much Larger View)
Grand Sierra Boltaflex by Omnova Solutions
Almond
Autumn Leaf
Azure
Bamboo
Birch
Black
Bluestone
Bombay
Burro
Charcoal
Chestnut
Chocolate
Colonial Blue
Cranberry
Crocus
Custard
Fire Red
Grey
Hunter
Navy
Oxblood
Plum
Seafoam
Shadow
Grand Sierra, in shades of neutral tones, is a solid upholstery vinyl with PreFixx® protective light emboss finish for outstanding resistance to staining, abrasion and scuffing as well as chemical resistance to stains from many common disinfecting agents used in healthcare environments.
Grand Sierra Specifications:
FMVSS302 Specification Compliant:
Yes
UV Stability - CFFA2 (UVA 340 bulb):
650 Hours outdoors
Flammability Specifications:
California Technical Bulletin 117-75, Sec. E
Federal Specification CID A-A-2950 superceding CCC-A-680A
NFPA 701 Small Scale
NY/NJ Port of Authority
FMVSS-302 FAA-FAR25.853
Boston IX-1
NFPA 260
UFAC Fabric, Class 1
Tack Strength - CFFA 14:
60 x 30
Tensile Strength:
110 x 85
Adhesion - CFFA 3:
3.0# Min.
Shipping Weight:
76lbs/roll
Wyzenbeek Abrasion - CFFA 1:
60,000 cycles stainless steel screen wire
1 million cycles #8 cotton duck
Note: Due to possible variances in your computer monitor, the colors and patterns displayed may vary slightly from the actual product. Customers should always obtain and compare actual samples before specifying.
(Click on Images for a Much Larger View)
- End of Grade 7 Vinyl -

This file requires Microsoft Excel to open)
To order or if you have any questions, please call us anytime at our
24/7/365 Customer Care Center:

478-320-2502
Or click below to send us an E-mail with your questions:

Or click below to request a call back:
DOWNLOAD THE CLASSIC HEAVY DUTY 14 AWG FULL-LINE RETRO DINER CATALOG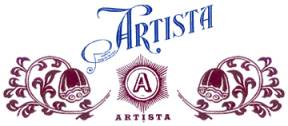 2013 Artista Gallery, Inc. All Rights Reserved